Popular
The Senate's Ticketmaster hearing featured plenty of Taylor Swift puns and protesters
Penny Harrison and her son Parker Harrison rally outside the U.S. Capitol during the Senate Judiciary Committee's Ticketmaster hearing on Tuesday morning.
Drew Angerer/Getty Images
hide caption
toggle caption
Drew Angerer/Getty Images
Drew Angerer/Getty Images
The Senate Judiciary Committee held its much-anticipated hearing into Live Nation and the lack of competition in the ticketing industry on Tuesday.
While lawmakers grilled entertainment executives and antitrust experts, some of Ticketmaster's most vocal critics protested just steps away on the grounds of the U.S. Capitol: Taylor Swift fans.
"As I was driving up this morning I couldn't help but notice I had never seen more smiling and happy demonstrators than I saw today," Sen. Mike Lee (R-Utah) said during the hearing. "I think Swifties have figured something out, they're very good at getting their message across."

During the hearing, several lawmakers credited the Swift debacle — and her vocal fanbase — with putting Ticketmaster back in the spotlight, though acknowledged that the problem is much bigger than any one artist.
Critics long have accused Ticketmaster of being a monopoly, especially after its controversial merger with Live Nation (now its parent company) in 2010. But outrage reached a new pitch after its botched presale process for Swift's The Eras Tour in November, when long wait times, exorbitant fees and website outages left thousands of fans frustrated and empty-handed.
After years of complaints about high fees, murky resale practices and other issues, the incident seemed to galvanize fans and lawmakers alike. Attorneys general of several states launched consumer protection investigations, many Democratic lawmakers called for Ticketmaster to be broken up and dozens of Swift fans sued the company for fraud and antitrust violations.
The company did not respond to NPR's request for comment for this story. In a public apology to Swift and her fans at the time, Ticketmaster blamed overwhelming demand for crashing its site.
"The biggest venues and artists turn to us because we have the leading ticketing technology in the world – that doesn't mean it's perfect, and clearly for Taylor Swift The Eras Tour onsale it wasn't," it said at the time. "But we're always working to improve the ticket buying experience. Especially for high demand onsales, which continue to test new limits."
Entertainment and industry experts blame Ticketmaster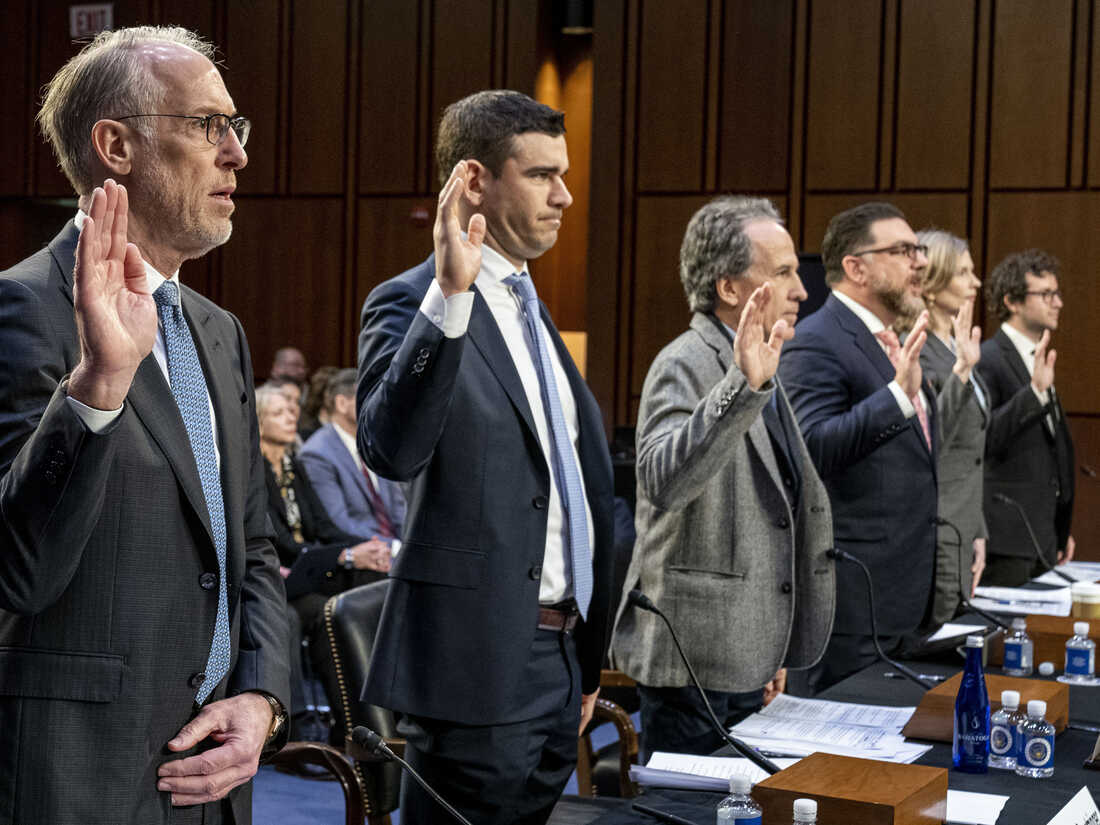 Live Nation Entertainment, Inc. President and Chief Financial Officer Joe Berchtold was among the witnesses at Tuesday's hearing, which also included antitrust experts and a singer-songwriter.
Andrew Harnik/AP
hide caption
toggle caption
Andrew Harnik/AP
Andrew Harnik/AP
Tuesday's hearing, which stretched on for more than three hours, included probing questions, defiant statements and more than a few Swift references.
'Ticketmaster ought to look in the mirror and say, 'I'm the problem, it's me" — Sen. Richard Blumenthal dropped this lyric reference that Swifties will surely recognize as senators grilled Live Nation CFO Joe Berchtold pic.twitter.com/UOE7tEHSBc
— NowThis (@nowthisnews) January 24, 2023
Many of lawmakers' questions were aimed at Joe Berchtold, the president and chief financial officer of Live Nation Entertainment, who acknowledged issues in the industry (mostly having to do with bots) but sought to downplay Ticketmaster's dominance in the market.
The other witnesses used their opening statements to describe Ticketmaster's detrimental effects, either on their own business or the economy in general.
Jack Groetzinger, the CEO of SeatGeek, Inc., said major U.S. venues know that if they move their primary ticketing business away from Ticketmaster they risk losing the revenue they earn from Live Nation concerts, and alleged that the company has retaliated against those venues in the past.

The committee also heard from two antitrust experts: Sal Nuzzo, senior vice president of the James Madison Institute, and Kathleen Bradish, vice president for legal advocacy at the American Antitrust Institute.
A lack of competition over time has "corroded innovation and distorted the market," Nuzzo said.
"Live Nation-Ticketmaster is an example of, on one hand, a very traditional monopoly in the mode of Standard Oil, on the other a 21st century digital player, like other online platforms, dominating an ever-widening swath of its industry," Bradish said.
Bradish pointed out that in 2020 the Justice Department found that the company violated requirements of the consent decree governing its merger, but rather than seeking a broader structural remedy the agency extended it for another five and a half years.
She advocated for the Justice Department to take new enforcement action against the company and for Congress to consider passing legislation that would do things like clarify and strengthen U.S. antitrust laws, or require codes of conduct for digital ticketing platforms.
Frustration for artists and fans
Swift herself was not among the witnesses, but lawmakers and the public did get to hear from one musician: Clyde Lawrence, the singer-songwriter behind the soul-pop group Lawrence, which he acknowledged is much less famous but has used its platform to speak out against Ticketmaster in the past.
Lawrence said most problems stem from the fact that Ticketmaster simultaneously serves as the promoter, venue and ticketing company for tours.
He called for more transparency, especially into how Ticketmaster decides services fees — saying they are never told to artists in advance and have been as high as 82% in his band's case.
Berchtold later responded that Live Nation doesn't set those fees, the venues do. When a lawmaker pushed back that Live Nation either owns or has long-term contracts with many venues, Berchtold said it was a relatively small percentage of all of them in the U.S.
Lawrence said his band has had positive experiences with parts of Live Nation, like the hardworking venue employees and the fact that all of their venues share a single Wifi password.
"We truly do not see Live Nation as the enemy," he said. "They're just the largest player in a game that feels stacked against us as artists, and often our fans as well."
Protesters say this is an issue everyone can get behind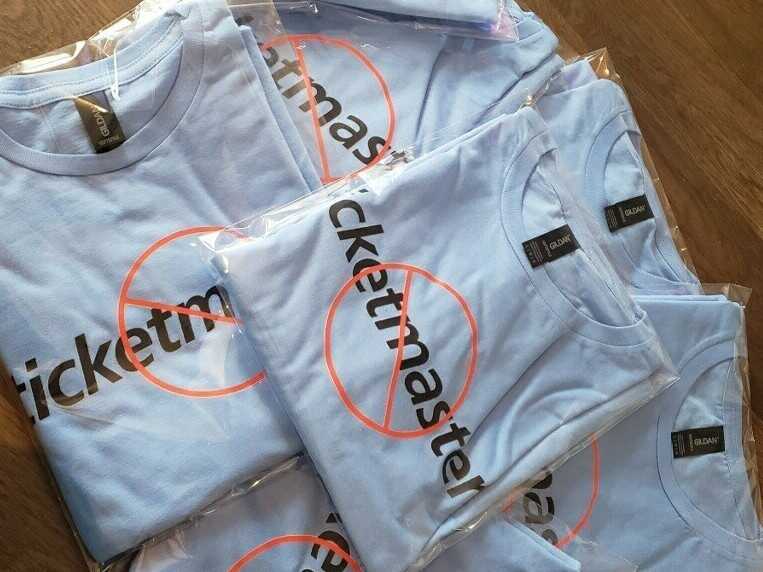 Protesters made anti-Ticketmaster tee shirts for Tuesday's event.
Jenn Landry/Jennifer Kinder
hide caption
toggle caption
Jenn Landry/Jennifer Kinder
Jenn Landry/Jennifer Kinder
Jennifer Kinder, the Dallas-based attorney representing Swift fans in their lawsuit, helped organize a protest outside the hearing Tuesday to send a message to leaders of both the company and the committee probing it.
She flew in from Dallas to particpate, and told NPR afterward that 40-50 people had showed up outside the Capitol, while another 700 attendees tuned into her firm's live TikTok stream. "Ticketmaster" was a trending topic on Twitter during the hearing.
Demonstrators got their message across with T-shirts and banners bearing all sorts of slogans: Ticketswindle, Ticketmonopoly, Stay Mad Swifties, a Ticketmaster logo with a line through it.
One sign tells Ticketmaster "your reputation has never been worse," referring to a Swift song. Another quotes a different Swift lyric: "If it feels like a trap, you're already in one," and a big photo referencing the thousands-long online queue fans found themselves stuck in.
Kinder said protesters were also streaming the hearing and loved what they were hearing. "I think that we can sort of uniformly agree that the Senate's gonna make some changes," she said. "They are gonna do some things to Ticketmaster."
And, she stresses, she really wants to make sure that those changes actually protect consumers.
"What we'd like to see is that all consumers that want to participate in live entertainment are protected … I think until that happens, we really can't be happy," she said. "If an artist is getting screwed, if a consumer is getting screwed, then the system still doesn't work."
A hearing can accomplish three key things, Klobuchar says
Sen. Amy Klobuchar, D-Minn., pictured during a hearing in Dec. 2022, is a leading voice in Congress for for antitrust reform.
Matt Rourke/AP
hide caption
toggle caption
Matt Rourke/AP
Matt Rourke/AP
Klobuchar, D-Minn., the chair of the Senate Judiciary Subcommittee on Competition Policy, Antitrust, and Consumer Rights, told Morning Edition before the hearing that while bands have tried to take on Ticketmaster for decades, the picture looks different in 2023.
"What's different right now is that this isn't a singular problem," she explains. "We've seen consolidation in 75% of the industries in this country, and people are catching on. Taylor Swift fans sure caught on. I will get whatever allies I have to take on this case.'"
Klobuchar sees three main issues with Ticketmaster, as she explained in both the interview and her opening statement at the hearing: It controls more than 70% of the market for ticketing and live events, it controls much of the promotion of those events, and it either owns or has yearslong exclusive contracts with many large venues.
"So that is a trio of problems that leads to two things," she says. "One is what you see — it's not just Taylor Swift, it's Bad Bunny, BTS, Bruce Springsteen, Harry Styles, all of these artists have issues with ticketing, because there's no incentive when you're a monopoly. Secondly, fees, hidden fees. One recent government study found 27% of the ticket price was fees that you can't even figure out what they are from this company."
Klobuchar hoped the hearing would give the public a chance to see what's going on, create under-oath evidence that could be useful in any future investigations (like a reported one from the Department of Justice that's said to have been launched before the Swift ticket sales), and educate lawmakers who could create legislation to address the issues.
"There are Republicans interested in this right now, on fees, on the fact that they try to lock in these multi-year contracts," she says. "All of those things are ripe for legislation."
Tuesday's protest won't be the last
Amy Edwards rallied against Ticketmaster with Swift-themed signs outside the Capitol on Tuesday.
Drew Angerer/Getty Images
hide caption
toggle caption
Drew Angerer/Getty Images
Drew Angerer/Getty Images
Kinder says Swift deserves a lot of credit for bringing the movement together.
"At the end of the day, without Taylor Swift, we don't all find each other … We're sitting at lunch today, we're trading friendship bracelets, because that's what she inspired: a sense of community, empathy, individuality …" she said. "All the things that she really fosters in her music [have] created a community, and without her we wouldn't be the community that we are."
Kinder had help in organizing the protests — including from activists associated with Free Britney, the movement that called for the end of Britney Spears' conservatorship.
One of those advocates, Melanie Carlson, has been researching the issue for years and alleges that Live Nation profited directly from Spears' conservatorship.
"It's shocking that she could perform for thousands of people and everyone in the industry knew about it, and yet no one said anything," Carlson told NPR in a Monday phone interview. "And that is the level of power that should be broken up. And that's our fight against Ticketmaster and Live Nation."
Carlson has seen a number of fandoms take issue with Ticketmaster's practices over the years and has long been trying to unite them. And she isn't surprised that it took an artist of Swift's stature to finally do it — even as Carlson has seen disappointed Swifties widely mocked as "just privileged young women that need to get a life."
"People tend to ridicule interests that are predominantly female … And what people need to step back and see is that: Don't they have a favorite band? And aren't some of those concerts the best moments of their lives?" Carlson says. "So if we come together, we can all enjoy music more freely and the artists will have more freedom too."
Kinder is encouraging people to turn out to protest again in March in Los Angeles, when plaintiffs have their first court hearing in their Ticketmaster lawsuit.
"We're gonna be a persistent presence until all the changes that need to be made are made," she said.